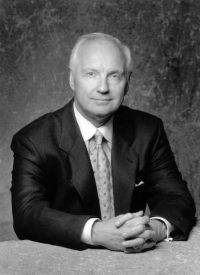 President Bill Sautter has set the bar for commitment. Under his leadership Elliott-Lewis developed a superior service organization that provides ongoing support to major health facilities, universities and public authorities in the Philadelphia and New Jersey areas.
Bill's strength of character and business reputation within the community led to his being named Citizen of the Year by the Southeastern Chapter of the American Red Cross in 2009. Read more about that honor or see the video on what community leaders say about Bill's efforts
A Father Judge High School graduate, he was presented with their "Outstanding Graduate Award." In 1971 Bill graduated from LaSalle University with a degree in accounting and was the 2002 recipient of their Leadership Award. In 2005 he was honored with the City of Hope "Spirit of Life" Award. The Beta Gamma Sigma's International Business Achievement Award was presented to Bill in 2008.
He serves on the Board of Directors of Independence Blue Cross, Philadelphia Industrial Development Corporation, Greater Philadelphia Chamber of Commerce and Mechanical Contractors Association of Eastern Pennsylvania. Bill is Chair of the Board of Trustees of LaSalle University, and Trustee of Archdiocese of Philadelphia Lay Teachers Pension Plan. He is a member of PA Institute of Certified Public Accountants and American Institute of Certified Public Accountants.
Bill is a Committee Member of the G. Fred DiBona, Jr. Memorial Foundation (Fred's Footsteps). This organization provides direct financial support to families in financial crisis due to costs associated with caring for a critically or chronically ill child. Additionally, he assists various churches, schools and organizations struggling financially who are in need of any of the many services that Elliott-Lewis has available and is a generous benefactor to many local organizations.